Jacksonville Truck Accident Attorney 
Collisions between passenger cars and semi-trucks are freqeuntly devastating due to the sheer size of tractor trailers.  Often, victims of these accidents are left with debilitating injuries, or worse, die. If you have been involved in an accident with a semi-truck or commercial vehicle, it is important that you speak to an experienced Jacksonville truck accident attorney. 
How Our Jacksonville Truck Accident Attorney Can Help:
Michael Humphries comes from a trucking family.  In fact, Mr. Humphries spent his teenage summers working at his family's commercial truck dealership, cleaning semi trucks and delivering parts.  Mr. Humphries is keenly aware of the rules and regulations that govern commercial truck drivers, and the ways commercial truck drivers violate these rules.  Mr. Humphries calls on this knowledge to aggressively represent his clients who have been injured by commercial vehicles.  
If you have been injured by a commercial vehicle, Humphries Law can: 
Investigate your accident to determine the specific cause
Engage expert witnesses to help strengthen your case 
Interview witnesses 
Gather crucial evidence, including trucking logs, pre-trip inspection logs, and available video footage
Handle all claims with any insurance companies or self insured companies
Negotiate a settlement that covers your damages 
Fight for you in Court
Drivers of commercial trucks are often subject to additional rules and regulations that drivers of passenger vehicles are not.  These regulations can govern: 
 Hours of Service and Driver Fatigue
Vehicle Maintenance, including Pre-Trip Inspections 
Cargo and Load Weight Limits
Hiring and Training 
If you are involved in an accident with a semi-truck, it is important that you contact an experienced trucking attorney as soon as possible.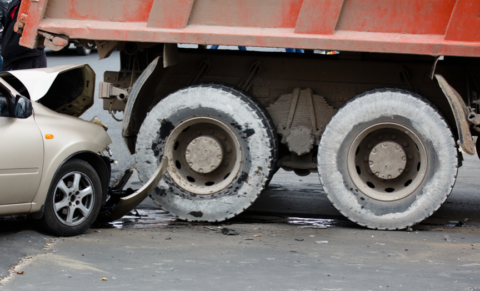 What is the Statute of Limitations for a Truck Crash?
The statute of limitations is the maximum amount of time you have to file a lawsuit after an event.  Generally, the statute of limitations in Florida for injuries resulting from a truck accident is four years.  This means you must file a lawsuit within four years of the date of the accident.  However, the amount of time may be shorter if a governmental entity is involved.  
Compensation in Trucking Accident Cases May Include:
Medical Costs – you may be able to recover both the current and projected future expenses for medical treatment necessary because of injuries caused by the accident. 
Pain and Suffering –  this includes not only physical pain and suffering, but the mental anguish that often occurs as well.  
Loss of Enjoyment of Life – if you are unable to do the activities you once enjoyed, you may be entitled to compensation. 
Lost Wages – this is money lost due to missed work from the date of the accident to the date of the demand or jury trial.  
Loss of Earning Capacity – this is different than lost wages.  These damages can be awarded if your ability to earn income in the future has been diminished.  
Loss of Enjoyment of Life – if you are unable to do the activities you once enjoyed, you may be entitled to compensation. 
Contact Humphries Law at
904-910-0567

for a free, no obligation, consultation with an experienced Jacksonville based truck accident attorney.